October Sky 2016 GO for October 9 and 10!


:: 2016/10/03



We are GO for October Sky 2016 on Sunday and Monday only, with Saturday being too cloudy, windy and rainy to launch! The launch should be set up at our usual primary spot (rang Letendre) in St Pie de Guire, the same place a last May.

We're going to try lauching as early as possible starting around 10am. Setup should start at 8am and if you can make it, we'll appreciate all the help we can get!

Don't forget to bring your radios if you have any, as the tall corn may make searches more complicated. As previously mentioned, a lot of the crops should still be standing.

For those showing up after the safety briefing, please consult the RSO for any precautions or warnings specific to the given day.







GO for Horizon 2016 on august 27 and 28!




:: 2016/08/17



Finally, Mother Nature cooperates for Horizon 2016 "take two". The forecast shows a near perfect Saturday with low winds, clear weather and no clouds. Sunday shows a trickier situation with a slight possibility of some rain at the end of the day.

The entrance will be in the same location as VIPE 2016.

To maximize time on Saturday, we should arrive around 8am to begin setup; the more help we have, the faster we can start the day!


VIPE: GO for July 23 and 24


:: 2016/07/04



Finally the weather seems to be cooperating for our second attempt at VIPE 2016! There should be some cloud cover (and possible rain, but only 30%) on Saturday with very low winds, followed by a much nicer, warmer and clearer Sunday, again with low wind.

Press the button below for more details (weater, location, etc)





GO for Rocket Fest 2016!


:: 2016/04/17



The weather kicks off the 2016 season on a positive tone: we are "GO" for the upcoming launch weekend, expecting an ideal Saturday with low winds, warm weather and a cloud ceiling well above our altitude limits! Sunday should be similar, but with slightly more wind.

Set the date on your calendar for May 21 and 22 2016 where Rocket Fest will take place in St-Pie-de-Guire, officially opening a very inetesting season for our club! Visit the event page for more details including weather condition updates when the event nears.





QRC Yearly General Assembly march 26 at 9AM
:: 2016/03/25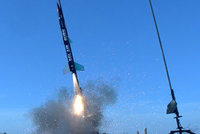 It's time to prepare the 2016 season! The yearly general assembly will be held at 9am on march 26th at Cosmodôme de Laval, 2150 autoroute des Laurentides Laval, QC H7T 2T8.

The meeting should en around 11am, followed by workshops up until 5pm.


© 2017 Québec Rocketry Club - All Rights Reserved