Three weeks?! Yup! Only Three Weeks to October Sky 2014!


:: 2014/09/23



It's time to order our motors for October Sky 2014! If you need info on how to do this, please consult this page: http://www.clubqf.ca/en/ev-information.html#motorinfo

We expect a lot of people on the field as October Sky marks the close of the season and thus the last chance to launch in the year! The ceiling is six thousand feet so please, don't hold back! Launch big and high!





GO for VIPE II this weekend!


:: 2014/08/12



Have you ordered your motors for the upcoming launch in Lac St Jean?It's time to launch! Looks like everything is cleared for a great launch weekend including odds of excellent weather!

Small change for this event: The entry gate will be at Rang #6 and not Rang #3. Consult the details of the event by clicking the button at the bottom of this article for more.

Everything seems to be in place for a second opportunity at launching with a ceiling so high! Stay tuned for the weather check next week.





VIPE is GO for July 19 and 20!


:: 2014/07/01



With nearly perfect weather for the coming weekend it is with pleasure that we announce that VIPE 2014 is GO! The launch is taking place in Roberval near Lac St Jean.

A crazy-high ceiling, almost no winds (5-15km/h), hot weather and a 3km by 3km field... what more could a rocketry enthusiast ask for?! We expect to see you all this weekend up north for some rocket fun!





Next stop: VIPE 2014! Before, though, it's time to order motors again!


:: 2014/06/14



It's already time to go get your motors for our next launch! Remember that this year, we have two options for ordering: Sunward Hobbies (Cesaroni) and Canadian Rocket Store (Aerotech, Estes). For info on how to order, in both cases, consult this link: http://www.clubqf.ca/en/ev-information.html#motorinfo

When buying from Canadian Rocket Store you must enter a promotional code at the checkout. This code is: CQF0714. If you're ordering from Sunward please leave a note with your order that you need the motors for the next QRC launch.





GO for Rocket Fest 2014 may 31 and june 1st
:: 2014/05/04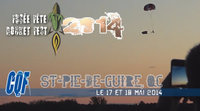 OFFICIAL GO for Rocket Fest 2014
The weather is great, the authorizations are signed and thus we are all set for Rocket Fest 2014 this weekend! We hope to see you and your creations on the field!

*Update! Weather is essentially washing out our first opportunity for this launch. We are rescheduling for May 31 and June 1st!*

Here comes the QRC's 2014 season with the first of four launches taking place in only TWO WEEKS! It's already time to think motor orders and there should be time for that all the way to next Monday or Tuesday. If you need help knowing what to do for motor orders, consult this page: http://www.clubqf.ca/en/ev-information.html#motorinfo

Weather reviews should start this week, so don't forget to check the event's main page for updates, road directions and maps. Click on this article's "More details" button or click the link related to this article.





© 2014 Québec Rocketry Club - All Rights Reserved