October Sky 2015, UPDATE: Go for Sturday, Sunday AND Monday!
:: 2015/10/08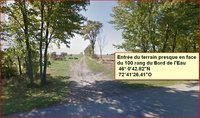 After a second weather review with even more up-to-date information, we've chosen to open up the whole weekend for rocket launches. We'll be waiting for you all on Saturday, Sunday and Monday (October 10, 11 and 12)! You may either choose to brave the cold (Saturday) or the wind (Sunday/Monday)!

While we're launching at the well known site #2 just like last year, we'll need to move the entrance gate (see attached picture). Please use the GPS coordinates on the picture to find the correct entrance.

Saturday should feature a sunny sky, low winds but also temps under the 10 degrees Celcius mark. Sunday has high risk of cloud cover, but conditions should remain decent for launch. On Monday, the temperature is expected to rise further, but high winds will also be something we'll need to look at closely.

We hope to see you all out on the field Saturday, Sunday and Monday!





October Sky 2015


:: 2015/09/13



Our next launch; October Sky 2015 is approaching. The authorization request is sent, we are preparing feverishly for the final launch of the year for QRC. There are many motors just expecting a good weather!

So you are expected on October 10 and 11 in St-Pie-de-Guire, on the field # 2 on Rang du Bord-de-l'eau.





Weather is NO-GO for Horizon 2015




:: 2015/08/27



Unfortunately we have to cancel the Horizon 2015 launch this weekend due to a very grim forecast that would only leave an hour or two of acceptable weather, with rain scattered through the day.

Let's hope for better luck when October Sky comes around!


Need more motors for Horizon 2015? Now's the time to order!




:: 2015/08/19



While we expect most of you may have stocked up for the last event which was cancelled due to rain, if you need to add a few extras in the pile, you can place orders to Sunward up until next week.

If you want to jump in our group buy, consult this page for more info: http://www.clubqf.ca/en/ev-information.html#motorinfo

Weather checks and more info coming soon for Horizon 2015 - stay tuned!


VIPE 2015 Cancelled due to Rain




:: 2015/07/16



After having our primary launch dates rained out, this weekend poses an even greater risk of rain than last time and thus, we are forced to scrub the event.

The quantity of rainfall forecasted over the weekend would not only likely prevent launch, but would also compromise site safety.

And this, ladies and gentlemen, is why we schedule TWO high altitude high power events. Hopefully we can gather for our next attempt at this same location, which will take place August 29 and 30 2015.

Also note that this is not common within the QRC: This is our first full scrub since 2009.



© 2016 Québec Rocketry Club - All Rights Reserved